Last Updated: 01/25/21
Chemical Biology Consortium
The Chemical Biology Consortium (CBC) in the NCI Experimental Therapeutics (NExT) Program brings together chemical biologists and molecular oncologists from government, industry, and academia to address unmet needs in therapeutic oncology. Members of the consortium contribute their expertise in high throughput screening, structural biology, medicinal chemistry, compound profiling, cancer cell biology, and animal models for oncology to advance early stage drug discovery projects through to the clinical candidate stage. Through the CBC and the interactions among the various Participants, the NCI's drug discovery and development pipeline is active from target identification through proof-of-concept clinical trials.
The CBC operates as a collaborative network of 7 Dedicated and 15 Specialized Centers. The Dedicated Centers support the advancement of NExT discovery projects through all discovery stages and provide scientific leadership for the Consortium. The Specialized Centers provide uniquely focused technologies that facilitate the successful progression of NExT discovery projects at specific discovery stages.
Map of the CBC Network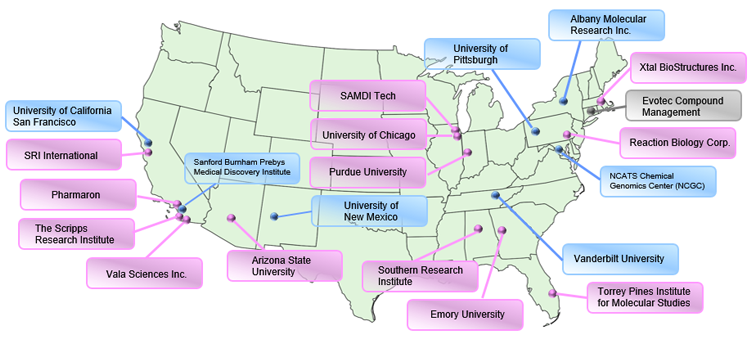 For a current list of Principal and Co-Principal Investigators for the Dedicated and Specialized centers, please click the link: CBC PIs.